The Clues are in the Shoes
By Allegra Romita and Nancy Romita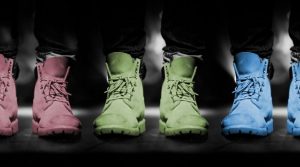 The Story: Allegra and the Cobbler
I live in Brooklyn, New York. In the city, it is common for people to take more than 10,000 steps per day! With that much walking, anyone would need to send his or her shoes to a cobbler. This is why there are shoe repair places all over New York City. I have a pair of boots that I love. I continually need the soles replaced, so I can continue to wear them even after I've worn out the soles. On my third trip to replace the heels of my boots, Victor, the cobbler, pointed out that I am constantly wearing out one spot on my left heel more than the rest. Aha! This was an amazing observation, since I regularly have left ankle pain and discomfort. My shoes were a clue to what my habit was in walking and the reason for my discomfort in my ankle. I strike heavily on the outside of my left heel more than my right and not evenly through my foot. Thanks to Victor, I had a better understanding of what my habit was in walking.
Look at the bottom of your favorite shoes and also at the insoles. Where do see the most wear? Is one shoe worn more than another? These are clues that you habitually apply more force or load unevenly.  This unconscious additional pressure can often cause uneven stress to muscles and joints of the foot, knee, hip, and spine. Most of us are not symmetrical in the way we walk. One leg may drag more than the other leg, or one arm can swing more than the other. Recognizing our idiosyncrasies in walking provides an opportunity to release unnecessary tension and rebalance the body for ease in action.
Walking is an effective recuperation tool and whole health activity. We learn to walk when we are very young, yet we are never taught how to do so biomechanically. Movement patterns that form, as early as crawling, affect our skeletal structure, muscle structure, and myofascial tissue. Walking can promote balance, or it can systemically compromise the spine and become a source of discomfort.
Habit plays an important role in the choices one makes for walking.  Here are 5 tips to help improve your walking technique. recognize habit, release tension through supportive breathing, knees lead, push off the ball of the foot, and even cadence.
To investigate these tips further pull out your favorite walking shoes and click on this audio guide to help improve your walking technique:    
It's not just the walking, it is the manner of traveling that matters.
Small unconscious habits create subtle imbalances in walking. We do not feel them as pain often during the day, but the repercussions from these habits affect the system.  The strategies used in the audio link help reset your walking pattern to promote balanced use of the body. At some point, it helps to buy new walking shoes and apply these tips to see if new patterns are revealed in the sole of the shoe. The clues are in the shoes.
NOTE: Portions of this blog are excerpts from Functional Awareness: Anatomy in Action for Dancers written by Nancy Romita and Allegra Romita and published by Oxford University Press. More information here.