Functional Awareness® Workshops in Yoga in BROOKLYN are officially underway!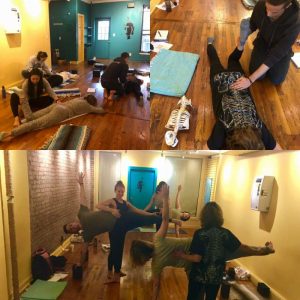 The yogis who are participating in the Functional Awareness®: Anatomy in Action for Yoga 100-hour Continuing Education for yoga teachers at Brooklyn Yoga Project have officially completed the first three weekends. During the next 5 months, they will continue to deepen their practice and research.
If you are interested in joining us in the Fall for the next round of weekends, this continuing education offers training in Functional Awareness® principles of anatomical visualization and sensorimotor cueing strategies for effective movement coaching. This includes a practice in assisting through hands-on adjustments.
Functional Awareness® Yoga Teachers (FAYTs) develop a firm foundation in anatomical and somatic approaches to movement. Participants learn specific strategies and skills to apply this knowledge on and off the mat.
---
A Practical Guide to the Body and Applications of Functional Awareness®
The Modules can be taken individually or together, in sequence or out of sequence
More information coming soon.
---
Purchase Your Workshop Here: